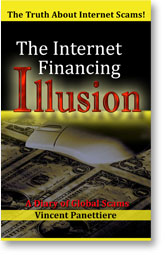 The Internet Financing Illusion is a biographical account of the dark side of the internet that reads like a novel. This true story unmasks Internet scammers from West Africa, who operate without conscience. It is a chronicle of their deceit and obfuscation fueling delusional hope, all to fleece the desperate and unsuspecting of thousands of dollars. In 1999, the author and twenty other individuals and businesses were unwittingly thrust into an Internet adventure that would consume his life.
RICHARD R. BLAKE, for Reader Views says...
"Vincent Panettiere details his personal journey in a nightmarish pursuit of global financing in his book "The Internet Financing Illusion." The book is a diary of global scams and reveals the reality of internet financing fraud.

Early in 2003 Vincent Panettiere was exploring alternative financing for a new commercial venture as a film producer. He was drawn into an Internet global financial venture that became all consuming. He made application for and was promised funding of $28.5 million dollars in investment capital. Vincent takes the reader on his personal journey through the baffling and often menacing world of cyberspace.

Arrangements were made with 24 year old Anamika Biswas of Kolkata, India, who claimed to have $33 billion to invest in several companies. Twenty-four entrepreneurs from four countries applied for funding and provided investment agreements for future profits from their company's new ventures.

I found myself absorbed in this intriguing narrative which includes the actual emails Vincent exchanged with Biswas and his fellow investors. These emails point out the incongruity, lies, and deceitful text that internet scam artists use to ensnare their victims. This first hand information and these instructive warnings are written to help keep the reader scam-proof in cyberspace.

The fast moving plot, the colorful cast of characters, the global communication, and the legal maneuvers resulting from deceit, greed, and delusions, give promise of an award winning fictionalized movie script. Powerful writing, timely and fascinating "The Internet Financing Illusion" reads like a fast paced novel from the first page through to the final fast moving climax."
LYNN SMITH, Amazon reader review
Many of us have received scam emails, but the Author shares with us three intriguing scams; one which consumed him over a period of time. It is difficult to fathom the creativity that some scam artists use to draw us into a web, almost devouring us in the process.

I hope you will enjoy this very well written account that Mr. Panettiere has shared with us, and hopefully, in the future, we'll see more of his work.