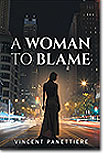 Melanie L. Hutter
A Woman To Blame had me hooked from the first page. Mike Hegan is a fantastic lead character. Hegan is a very smart and determined cop who is forced into retirement as a result of an off duty injury. All the characters, even the smaller and less mentioned ones are vividly depicted. Mike Hegan was my favorite character and I really would like to see a series of novels based on him. I really enjoyed this story and I found it intriguing how it is written with clever twists and turns from Chicago to the Caribbean and full of mobsters, relationships, and family ... Hegan's character is larger than life and never gives up... Definitely a refreshing must read mystery!

Reviewed By Grady Harp
HALL OF FAME TOP 100 REVIEWER VINE VOICE
According to the author, the seed for this novel was story in the New York Times in the late 1970s that originally became the germ of an idea for a film script. The script was not sold and he turned the story into a novel. And lucky for the reader as Panettiere has a gift for developing a strange story line with a heady mixture of comedy, a hint of parody on classes of people, a fine sense of setting an atmosphere for a scene.

But the real pleasure of A WOMAN TO BLAME, fine though the storyline is, in the manner in which Panettierre introduces his cast of characters, the vivid verismo of his scene descriptions, and the polished quality of his writing. Given writing of this skill the reader becomes committed to staying with this thriller mystery...

Vincent Panettiere may have waited to place a novel before the public, but with this entry he is likely well positioned to make a significant mark.

Reviewed By Jerome Jackson
A Woman to Blame is a murder mystery in which Detective Mike Hegan investigates the deaths of a racehorse and her trainer. Detective Hegan makes for a strong protagonist. He is tough but ageing and mentally scarred individual who is being forced into retirement. His personal difficulties make his determination to solve the case all the more admirable, and one is left with the feeling this is as much about professional pride as justice.

The plot is cleverly woven, beginning slowly, with strange circumstances arousing Hegan's suspicion. As more characters enter the story, pieces of the jigsaw puzzle start fitting together, and then the author messes them all up again by successfully blind-sighting the reader. There is a romantic B story to add emotional weight to proceedings, and all elements of the plot gel perfectly together. It truly is an impressive balancing act. The conclusion comes as a surprise and is hugely satisfying. A Woman to Blame is a book that fans of the genre will love.

Reviewed By Scott, Amazon Customer
I personally love a book with a great cast of characters and a plot that keeps me guessing. I will admit, when I first picked up A Woman to Blame, however, I was left trying to figure out where Vincent Panettiere was going. The plot jumped around a bit at the beginning but as I got further into it I realized that it was because he was writing the novel as if it would be a screen play. The jumping around also provided me with the background information that I needed about the main characters in order to follow what was going on. Once the plot got going I really enjoyed Panettiere's ability to keep me on my toes with his writing style.

Our hero is a Veteran cop whose career ended with medical disability after an incident. Our hero, Mike Heagan, had a rough go of it between the physical altercations and the emotional events that take place throughout the novel. Any normal person wouldn't be able to take all of the struggles thrown at Heagan. The way that Panettiere writes this novel makes you fall in love with not just Heagan but all of the characters that he writes about all the way down to the minor characters that we only see briefly.
Back To Main Page - A Woman To Blame